The Quest for Happiness
Living An Impassioned Life
The Quest for Happiness is our one-year program that features a proven system including learning concepts, role playing, visual meditations, experiential exercises, relationship and life skills training.
The program will enhance your life. It brings you more choices, curiosity, joy and passion. It is a journey of self-discovery and the release of shame, guilt, and unreasonable expectations.
Cindy called this path a Quest because she designed it for the devoted and committed. You will progress to a life greater than your life is at present.
It is an honor for Cindy to walk this path with her clients. You are courageous enough to address changes in how you think, live, respond and believe to find beauty, brilliance and passion daily.
The Work
Clients will have 33 private sessions with Cindy (in office, virtual or a combination).
The first six months will be weekly sessions.
The next six months, we transition to twice a month and monthly meetings.
Clients list their goals and expectations and have homework from each session which is reflected on their Trello* Board.
In between sessions, Cindy accepts phone calls free of charge, for up to 25 minutes, plus emails and texts.
Clients receive links to resources to enhance their Quest such as Ted Talks, relevant reading, books, poems and more.
*A Trello board is a list of lists, filled with cards, used by you and your team or coach. It is an innovative and straightforward online tool with all you need to organize projects of any size.


The Quest program is perfect if you experience:
Feeling lost or stuck in a monotonous schedule, like a hamster on a wheel.

A lack of love, joy and passion in your daily life.

Sadness, self-doubt, minimal self-esteem.

Success in one area of your life, such as your profession, and flounder in others.

Insufficient love, money, food, success, and more.

Inadequacies: "I am not smart enough, attractive enough, popular enough…"

A lack of purpose
Also see The Quest for a Happy, Healthy Relationship
For more insight, view the library of videos devoted to the Quest for Happiness, including Happiness Minis.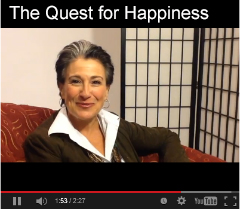 Save
In Your Words
"Cindy Battino is one of the most compassionate and caring people I know. She helps you figure out what your priorities are in life and how to focus on them. Cindy brings a world of knowledge and training to her position and is uniquely skilled as a life coach, energy worker and healer. I would highly recommend Cindy if you want to find more happiness in your life." -KB

"Cindy, thank you for your help. I feel we accomplished more in those two hours than we did in the last two years of traditional marriage counseling. I look forward to our next meeting." JC

"I started with Transformational Healing after my husband of 38 years passed away. Since then, I have worked with Cindy on life transitions: dealing with family, dating, body image, and more. She has helped by giving me tools to deal with the difficult issues that occur in my life and stay in my heart. She gave me a new perspective on my life, my body, and my old habits. I continue to call on Cindy when I find myself stuck. I am ready to move closer toward peace and happiness. I am definitely a happier person having met with Cindy from the start!" - B.O.
For session appointments, please call: 703-966-7620
Contact Cindy