Events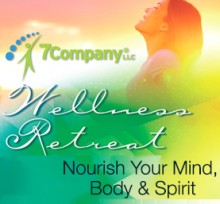 72315Thu
|

posted by TransformHeal
7Company is having a Wellness Retreat – Nourish Your Mind, Body and Spirit!
During this exclusive retreat you will experience yoga, meditation, sound healings, healthy cooking classes, nutrition classes and much more. This weekend retreat is for women only and there is limited space available. The retreat will be held at the peaceful and beautiful Briar Patch Bed & Breakfast in Middleburg VA. Overnight lodging is included. Come, join us and get away from it all!
All meals included
Cooking Demo
Yoga, meditation and sound healing
Power walk with a fitness trainer
Nutrition information
Sessions on Emotion
Create your personal Vision Board
Lodging for two nights
Some free time to read on the porch, enjoy the pool, take a walk
Cindy Battino owner of Transformational Healing, will be speaking at the event. She brings her refreshing view on your relationships, work and home life, and how you live your best life.
Three days and two nights: July (Tue, Wed, Thu) 21, 22, 23, 2015
Women Only – Exclusive event –Only 8 spots available
Early bird price by June 20 – $980, After June 20 -$1,080
For more information call 571-252-3775
email: jennifer@7company.com
Visit the 7Company site to learn more about their organization.