Healing Blog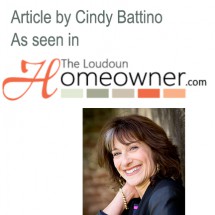 111216Sat
|

posted by TransformHeal
Finding The Happy In Your Home This Winter
November 11, 2016  in Loudoun Lifestyle.

When we bought our cabin in the woods most of our friends had one consistent question: "What are you going to do about winter?" We have come up with lots of answers to this question, but the one we use the most is: "We are prepared for whatever winter brings." What does this mean, exactly? It means that we have considered all of the problems and tackled them one at a time. I grew up in the mountains of Connecticut. We had storms. We lost power. I knew that purchasing a mountain home would present similar issues and I got to work.
Have the Equipment You Need
First and foremost, we purchased a tractor with the home. It's called a Strug. It has a plow, winch, front loader and grader attachments. My husband met with the previous owner and got a tutorial on how to operate said tractor. He then promised to teach me how to operate it so that when we get 12 or less inches of snow, I can work from home and make sure we have a snow free driveway. Anything over 12 inches and my husband will call in and stay home to keep us plowed out and safe.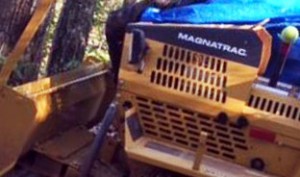 We are having a new wood stove installed this week. Two cords of wood are cut and stacked. No worries now if we lose power. We had a company come out and assess how well or poorly our house is insulated. We have work to do here, but it had to go on the needs list for next year. We will be prepared to have slightly higher electric bills this winter. We have water bottles in the dry storage. We have hurricane lanterns. We both have four-wheel drive vehicles. We believe we are well prepared, but the first winter will tell the truth of the matter.
Let Work Know How You're Gonna Roll This Winter
I have already sent out a notice to my clients with my Inclement Weather Policy. I already have my office set up at home to work virtually. All I needed was a more powerful router to make the magic happen. With the technology these days I don't have to miss a client session and we all stay on track.
My husband works at a five-star resort. When winter storms are predicted, they ask a skeleton staff to spend the night at the resort so they know they will have staffing if others can't make it in. When we purchased our mountain home, he let his superiors know that he wouldn't be able to stay at the resort when the winter storms hit. "Leave that for the young ones. I have to keep my wife and dogs safe at home." I love my husband!
Two Happy Home Lessons
You probably don't have a mountain home, but to find the happy in your home this winter follow these two "Happy Home Lessons:"
Happy Home Lesson #1: Get What You Need NOW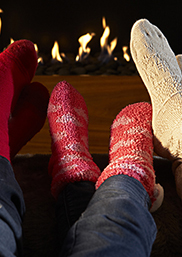 We have all had the experience of going to a big box home improvement store when we hear the first snow is going to come and find they're already out of snow shovels and salt. So don't wait. Go NOW to get yourself the shovels with the handles that make the job easier along with a few bags of salt to prevent those falls that could potentially bruise and break bones. Tired of shoveling? Go online. Find the best deal on a snow blower. It might just be the perfect investment you need to keep everyone safe and happy this winter.
Happy Home Lesson #2: Know Your Needs & Your House's Needs For Winter
Maybe one level of your house is colder or hotter than another. Purchase some heaters for that area so you don't have to put your coat on to be comfortable. Maybe you rarely lose power, but you get nose bleeds from the dryness of winter air. Now's the time to purchase a humidifier – either for a room – or for the house. Oh yeah, don't forget to winterize your plumbing. The last thing you need to deal with are frozen pipes. Those calls are the worst to make.
This winter think ahead. Shop around for the best deals. Stock up. Be prepared. By knowing what your house needs and what you need to be comfortable and safe this winter you are guaranteed to find more happy in your home!
Check out the published article here.
Email Cindy | (703) 966-7620 | transform-heal.com
Life coaching and energy work practice that is focused on helping people find the beauty in themselves and more happiness and passion in their lives. Sessions are done in person or virtually.
Save
Save
Save
Save
Save
Save
Save
Save
Save
Save